Why Sierra pallet?…Service and Quality
How is your pallet supplier frustrating you?
…unreliable delivery times?
…can't get what you need?
…inconsistent or low quality?
We understand this can hurt you and your customer. That's why Sierra Pallet's dedicated to maintaining high service and quality goals.
Our Service Promise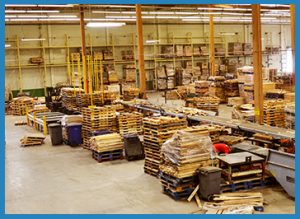 You receive a consistent and reliable supply of quality pallets that get your freight out on time, and safely delivered. For regularly scheduled deliveries or in an emergency, you can rely on Sierra Pallet because:
We keep an impressive inventory of lumber and pallets in stock
Some orders deliver the same day or next!
Impressive on-time delivery rate
We work one-on-one with you to anticipate seasonal needs and to create money-saving solutions
Local and highly responsive customer service staff
Large and local fleet of trucks
Customized management Service
Processing of production
Our Quality Promise
You always receive safe and sturdy pallets that protect your employees and your freight. Our onsite production manager makes sure each pallet goes through a 3-stage quality control check. So your pallets are:
Sturdy
Built to your specifications
Free of dangerous nails
We're sure you won't find a more knowledgeable partner for creating ideal pallet solutions that complement your operations and help maximize your budget.